XCMG's Mobile Crane Export Volume Up by 51% YOY
Date:
2021-09-15
Author:
Rosy
Source:
chinaspv.com
September 15, 2021, Xuzhou, China,Lately, after XCMG's all-terrain high-end cranes were sent to Australia in batches and achieved a breakthrough, dozens of XCMG overseas customized version of XCT_RB series "Peak White" cranes were lined up and embarked on the South American project construction market.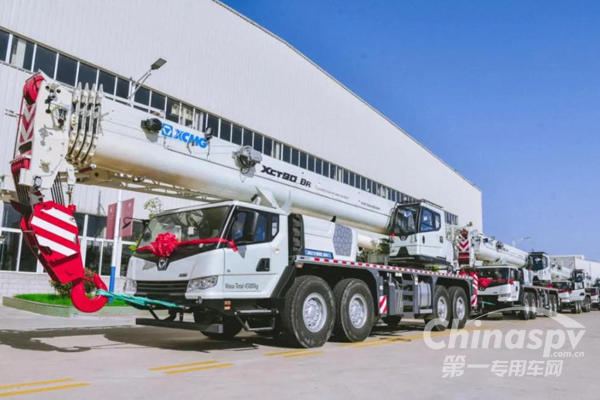 It is understood that the XCMG high-end cranes delivered in batches mainly rely on XCMG G technology platform and scientific research methods to systematically collect, organize and analyze the customers' needs in South American market, and were customized high-end products aimed at local high-temperature and rainy environment.

From January to July 2021, under the epidemic, the export of XCMG mobile cranes increased by more than 51% year-on-year, and the export of cranes to Europe, America and Australia rose sharply by more than 150% YOY.

It is worth mentioning that, while continuing to increase the development of key markets, XCMG continues to expand its service team, promote the localization of marketing channels and the construction of service spare parts, improve the ability of aftermarket guarantees, and actively build a trinity of sales, service, and spare parts to create a "golden sign" trusted by global users.

Years of intensive work has gained market recognition, and high-quality development has won the reputation of customers. XCMG has always adhered to the two-wheel drive of "technical innovation and internationalization strategy", leading China's construction machinery to climb the peak of the industry in times of turmoil in the global industry!