Foton Cummins Welcomes the 1 Millionth Engine at Its 10th Birthday Anniversary
On November 28, a big ceremony to mark the 10th anniversary of the establishment of Beijing Foton Cummins Engine Co., Ltd. (hereafter referred to as Foton Cummins) Along with the debut of X12 engine which is in line with Euro VI/State VI Emission Standards, the engine maker's accumulated production volume of various engines in the past ten years reached one million units.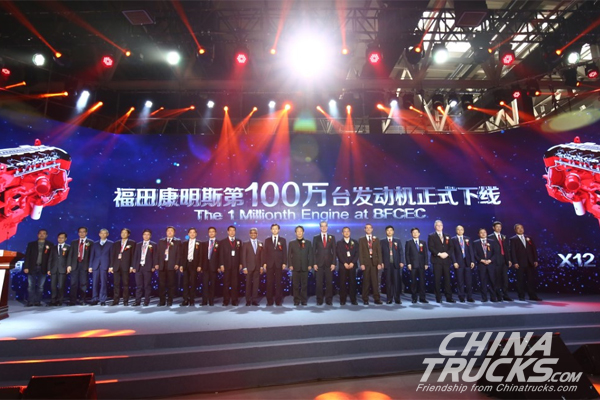 Li Gaoshuai, Vice Chairman of China Quality Association, Dong Yang, Vice Chairman of CAAM (China Association of Automobile Manufacturers), Gong Yueqiong, General Manager of Foton Automobile, Steve Chapman, Vice President of Cummins Group, Srikanth Padmanabhan, Vice President of Cummins Group, together with a number of other distinguished guests, witnessed the historical moment and jointly revealed X12 to the public.
In 2009, the first Cummins ISF3.8 L engine made its debut in the market. Since then, Foton Cummins has seen both its production and sales making new record highs, creating a miracle in China's engine making industry.
Thanks to the high quality and high environmental friendliness of its engine products, Foton Cummins has successfully earned a solid reputation in both China and abroad. So far, it has made its way to over 70 countries across the globe, including USA, UK, Russia, Brazil, South Korea. Currently, its exports account for 40% of its total sales and most of its engine products meet Euor IV, Euro V, and Euro VI emission standards.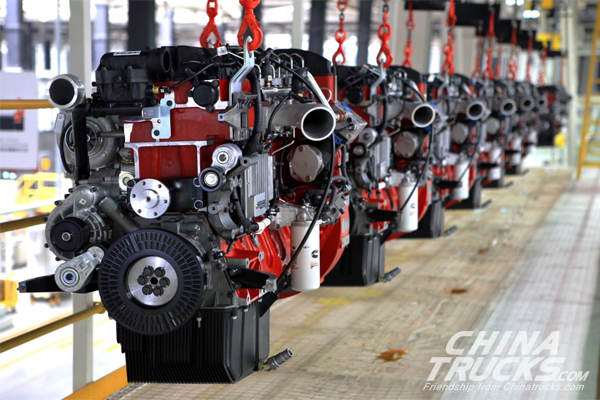 Cummins F series engines boast a maximum power of 157 KWh and a maximum torque of 760 N.m. Among their counterparts, they deliver the most powerful performances, take up the smallest space, have lowest body weight and the widest range of maximum torques. Achieving the highest energy efficiency, their combined sales volume has exceeded 800,000 units since its birth. Powered by diesel, they are chiefly designed for light-duty trucks and has reported no major repairs after running for one million kilometers. Currently, Cummins F series engines can be found on such well-renowned truck brands as Foton, JAC, CNHTC, Volkswagon, GAZ, Pacaar, Hyundai.
Cummins G series engine made its debut in 2014. Successfully making new technological breakthroughs in eight areas, it has greatly pushed forward the technological innovations in China's heavy-duty engine industry. Its 100,000 km maintenance cycle, large power compression braking, super-high pressure fuel jetting, intelligent rotation control and a number of other state-of-art technologies all represent the new height in current heavy-duty engine sector. In the first year after its debut, its sales exceeded 50,000 units, making a record high in the industry.
Cummins X series engine is the latest power platform for heavy-duty trucks. X12 engine was first revealed to the public at Hanover International Commercial Vehicle Exhibition in Germany. While at a torque of 2,300 N.m, it can achieve a rotation speed of 1,000 RPM and a compression braking power of 400 horsepower. In 2017, Foton Cummins started rolling out X12 engines. Equipped with a host of advanced technologies, such as ADEPT intelligent assistant driving, Connected Diagnostic service, ISOPOD turbocharging technology, Leakless fuel combustion system, the engine achieves high intelligence, high energy efficiency, and high reliability. Cummins G/X series engines for heavy-duty trucks can be found on a wide spectrum of Auman heavy-duty trucks and those branded with JAC, Liuqi and Dayun. (www.chinatrucks.com)