XCMG's 100,000th Unit Special Vehicle Went Offline
Date:
2021-08-02
Author:
Rosy
Source:
chinaspv.com
August 2, 2021, Xuzhou, China, On July 28, XCMG city operation special vehicle intelligent production base completion and 100,000th unit special vehicle offline ceremony was held in Xuzhou, Jiangsu.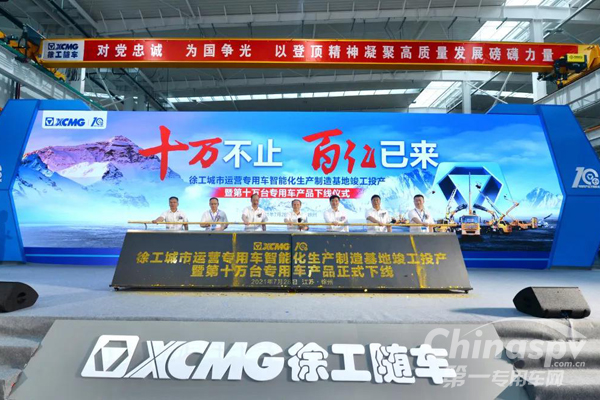 It is known that the base, with an area of about 80 mu and an investment of RMB800 million, is "a lorry-mounted crane intelligent manufacture project" mainly constructed by XCMG. The completion and operation of the base marks another step towards intelligent manufacture and a breakthrough in XCMG city operation special vehicle's production scale and efficiency.
On the site, XCMG self-developed hundred-ton capacity goose-neck jib tower crane SQZ4500 went offline officially. As the 100,000th special vehicle of XCMG, SQZ4500 fills the gap in national large-tonnage goose-neck jib tower crane industry and witnesses XCMG's customer-centered service and contributions to China's infrastructure construction.
Established in 2002 as the wholly-owned company of XCMG, XCMG Truck Mounted achieved first place in market share in just 3 years and ranked top in sales for 18 years in a row. In 2020, XCMG Truck Mounted formed "China's first" product systems including lorry-mounted crane, hydraulic aerial cage and bridge detecting machine and reached RMB3 billion in operational income, doubled in scale and profit.
XCMG Truck Mounted focuses on "customized products" to reconstruct value-chain and builds core competitiveness through new manufacture model. At present, over 25% of XCMG Truck Mounted products are customized, which is a strong increase in XCMG's high-quality development.
Customers noted that they trust XCMG and will continue to choose XCMG's products due to its advanced products, excellent quality and perfect services.