SANY Concrete Equipment Assists Tianshui Highest Building Construction
Date:
2021-09-08
Author:
Grace
Source:
chinaspv.com
September 8, 2021, Gansu, China, On September 5, multiple SANY pumping equipment participated in Tianshui Zhongshen Fortunate Center 4,000 cubic meters large raft pouring and construction.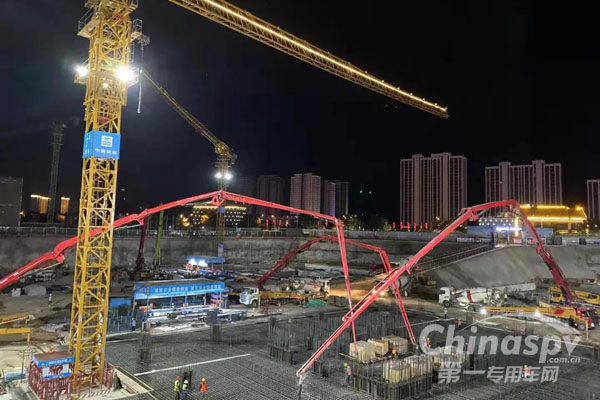 It is known that 6 units pumpers, 52 units mixer trucks, 3 units loaders, two 180 series production lines and one 300 series production line were involved in the project.

Three days before the pouring, XCMG team gave overall inspection on equipment. And engineers evaluated the equipment operation situation in real-time, provided rational construction suggestions and took charge of equipment check and trouble removal to ensure the complement of the task on September 5.

As a leading manufacturer in engineering machinery industry, SANY mainly produces engineering equipment, including concrete machine, road building machines, excavating machinery, hoisting machinery, piling machinery, wind power equipment, harbour machinery, oil equipment, coal equipment, precision machine tool and other whole series products.