Foton Gains Orders of 1367 units of Auman Special Vehicles for Muck Transport
www.chinaspv.com: 14 July, Beijing Foton Daimler Automotive Company held the delivery ceremony of new special vehicles for muck transport, 50 units delivered on the scene to Beijing Chengwei Brother Transportation Corporation.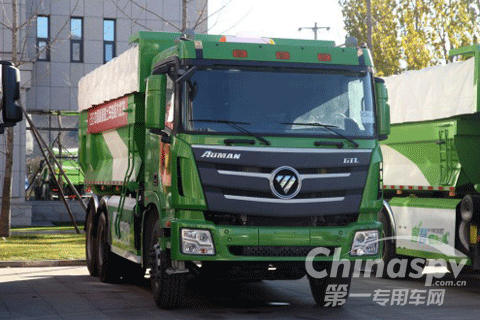 Reportedly, the third generation of Auman smart special vehicles for muck transportation is popular by carriers since launching in December 2013. As of now, the received orders refer to 1,367 units, many of those in operation successively, capable of promoting the air pollution treatment in Beijing. These 50 units all belong to one of the designed types by Beijing municipal government for the upgrading of muck transport vehicles.
Superior in products, technology and quality, Auman special vehicles for muck feature with reliability, safety, comforts, smart operation and environment protection, such as the deployment of Beidou navigation and smart sensing in internet networking technologies on vehicles, constituting smart management; remote positioning systems given warnings of speeding, wrong routes or accident emergency; international leading automotive sealing gland in avoidance of splitting and scattering; and green power in accordance with regulations on LNG products (China Emission Ⅳand Ⅴ). In addition, the vehicles facilitate the inspection of operation conditions through driving records, accumulated working conditions and tracks data, affordable for low fuel consumption management, best time evaluation of loading and discharging and remote diagnosis on failures. Full functions of these special vehicles enable proficiency, operation costs and smart operation of fleet.