Foton Motor Won China's First Autonomous Driving Road Test License for CVs
On April 18, 2018, China's autonomous driving test launched in Chongqing, which is held by China Automotive Engineering Research Institute(CAERI). Foton Motor was awarded with the autonomous driving road test license passing through tests with 100% success, became the unique commercial vehicle enterprise owning the official authority license in autonomous driving in China.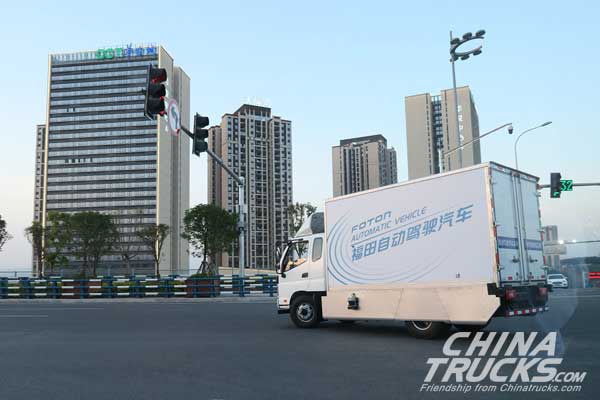 CAERI is the first qualified third-party agency of autonomous vehicle road test with governmental authorization. The reason why the test is performed in Chongqing is that the city boosts cover 85% traffic scenes and environment of the world, including express rings, long tunnel, ramp, curve and bridge, as well as complicated traffic condition like 3D city and 5D public transport system, which are of practical significance to application and development of China autonomous vehicle technology.
100% succeed autonomous driving tests, realizing autonomous driving in L3 semi-enclosed area.
Foton Motor autonomous truck can give command to itself based on the detection of surrounding environment to change lanes safely. The truck avoids itself from sliding when running uphill/downhill. In case of running on a two-lane one-way road, the truck identifies obstacle or a slow moving vehicle in front and by pass when it is safe. In case of encountering a pedestrian on a single laneway, the truck decelerates and brakes; it adapts to driving speed of front vehicle in the vehicle-following ACC and keeps safe distance from the front vehicle. According to the tests performed by the experts, the truck is capable of autonomous driving in L3 semi-enclosed area, including auto map generation based on running track, auto turning, pedestrian identifying, AEBS, ACC, LKA, auto lane change, TSR, traffic lights recognition and high accuracy positioning.
The tests show that intelligent driving technology of Foton Motor has been completely applied and become a leading enterprise in the area. Besides, the road test in Chongqing has provided Foton Motor with mass data of smart driving technology applications.
As a Foton Motor is enhancing upgrading of autonomous driving technology continuously to expand the technology application from enclosed and semi-enclosed scenes like Logistics, mining area and sea port to open working scenes. Foton Motor will meet demands of different users by focusing light duty truck on intelligent park logistics and municipal sanitation scenes, heavy duty truck on mining area, sea port and wharf, bus on smart urban commuting and smart urban passenger transport and VAN on shuttling in parks and scenic area. Foton Motor will lead the industry of domestic autonomous driving with innovative technologies and build its competitiveness in the world with intelligent technologies. (www.chinatrucks.com)